View the Typhoon Defence range here: https://www.cheshiregunroom.com/typhoon-defence-f12
Mark Underwood gets to grips with the Typhoon Defence F12 Practical Shotgun
The range of practical shotguns available on the UK market is now wider than ever, so a new gun needs to stand out amongst the crowd and offer something that bit special. The Typhoon Defence F12 certainly stands out, being one of the most striking practical shotguns available, and it takes the AR-style platform to a whole new level. Manufactured by Typhoon Defence Industries, a long-established Turkish firearms manufacturer, this is a ready to go shotgun with a full range of accessories available for you to add to suit your requirements.
The specs
The F12 is a 12-gauge, box fed, gas operated, semiautomatic shotgun with a 3" chamber and a 24" barrel. The patented dual gas system can be set to suit either heavy or light loads and, with the system being mounted around the barrel, both the piston and the operation spring are visible through the openings in the forend. The gun comes with five flush fitting interchangeable chokes, sized from full to improved cylinder. The action is manufactured from a lightweight aluminium alloy, coated with a very tough Cerakote finish which looks fantastic, and the barrel is 4140 stainless steel. This combination of materials means that the gun is extremely durable and certainly built to take some serious punishment. In addition to a long rail on the top of the action, for the installation of sights, there are raised rail sections on both sides and the underside of the forend so you can fit all of the lights and lasers you could possibly want. Furniture includes an AR Style pistol-grip and collapsible buttstock, making it easy to adjust the length of pull (LOP). It also features an adjustable cheek piece, to ensure the best possible alignment of the eye with the sight. It is solid and there is no evidence of any flex when the gun is fired.
Also included
The shotgun comes in a hard carry case, with the chokes in their own plastic box, a tool for disassembling the gun, two 10-round magazines, a breach flag and a full set of instructions. The mags are high quality, all-metal, but the springs are very strong, making charging them difficult until you get used to doing it. Caution is needed not to overlap the rims of the cartridges otherwise they jam against each other and will not align properly. This is very much down to 'operator error', rather than the gun, so pay attention when filling them. Smaller 2 and 5-round magazines are also available.
Sights
No sights come fitted, leaving you to choose your own, be it optics or irons. If you go for the latter, then the TrueFire Tactical flipup sights are an excellent choice. Both front and rear assemblies fold down flat on top of the rail when not in use and pop up with the press of a button. Despite being made of a plastic material, they are good quality and extremely durable. They are fully adjustable, and the sight picture is good, with the rear sight offering notch, circular or diamond-shaped peep options. At just £44.95 the sights are good value and, if you were very heavy handed and broke them, a replacement set is not going the break the bank.
Also available
Although the Typhoon is pretty much ready to go straight out of the box, there are plenty of accessories available so you can customise your setup. Additional magazines, mag loaders, muzzle brakes, coloured base plate covers, a bipod and mag holders can all be added to ensure your rig is complete and ready for action. All of the accessories are of good quality and very reasonably priced.
Feeding Time
Loading initially with light game loads the action was a bit stiff but the gun settled in and functioned faultlessly after just a few rounds. Working up through heavier loads, including buckshot and finally slug loads, the gun continued to take it all in its stride and cycled without any problems. Firing as fast as the trigger finger would allow, the action was spitting out spent cartridges in an arc with up to four of them in the air at any one time. This speed makes it ideal for shooting the fastest of stages in a practical shotgun competition. The F12 has an extended tapered chamber cone designed to reduce felt recoil, and it does seem to work. The gun is very controllable, even when firing rapidly, and with muzzle rise seeming minimal it is easy to hold on target. Slug loads do tend to recoil heavily but in the Typhoon they felt far tamer than in other guns, and after firing off a couple of boxes of slug there was no discomfort in the shoulder. The trigger is fantastic, with minimal creep and a very nice clean break, this is more like a rifle trigger than the one you would find on a shotgun. The trigger blade itself has a flat, serrated face and is shaped to give maximum feel, even under heavy recoil. There is no kickback from the trigger, even during rapid-fire, and this ensures you are ready to take the next shot every time.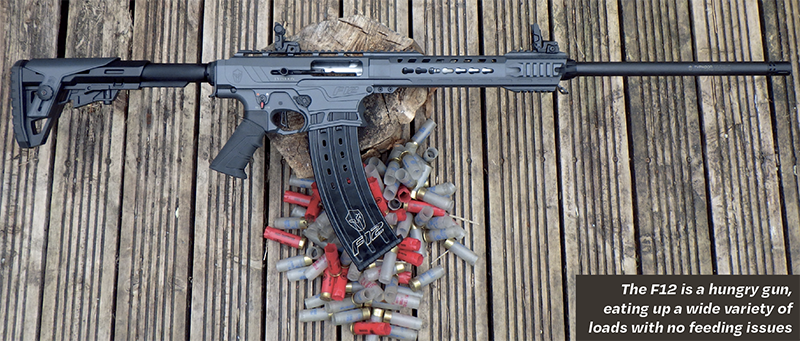 Conclusion
Overall, it is an outstanding practical shotgun, combining excellent build quality, with top quality materials and a well thought out design. Few semi-automatic shotguns can be so easily kept on target during fast firing. The controls are well proportioned and positioned with everything at your fingertips. It was a pleasure to shoot, and despite its looks, it does not bite. Cheshire Gun Room carries various models in stock, with all of the accessories, and the product knowledge of their staff is second to none. If you are looking for a practical shotgun that is that bit special, then the Typhoon is definitely worth a look. The only downside is ammunition consumption!
Purchase here: https://www.cheshiregunroom.com/typhoon-defence-f12