Product Description
Details
Shotgun "Essentials" Accessory Kit
The Shotgun "Essentials" accessory kit has been specially put together by Cheshire Gun Room, with shotgun shooters in mind.
As shooters we know that sometimes when you're buying a gun, you'll find the choice of accessories ranges from scopes to pellets, gun slips to targets and much more, this can be a bit overwhelming, especially if you're new to the sport. This is why we decided to make it easier for you by putting together some kits that we know will not disappoint, giving you just what you'll need without breaking the bank.
All of our kits include top quality products from high end brands.
What's included?
1 x Jack Pyke Cartridge Bag

1 x Jack Pyke Gun Slip

1 x MacNab Shotgun Cleaning Kit

1 x

Tetra Silicone Gun Cloth

1 x Parker Hale Express Gun Oil
25 x Bisley Cleaning Patches
1 x Bisley 150ml Aerosol Bore Cleaner
1 x Bisley 150ml Aerosol Gun Oil
BAG | Jack Pyke Speed Loader Cartridge Bag
Made using 600D Cordura with traditional buckle fastening. Fully adjustable shoulder strap with cartridge holder attachment. Holds approximately 70 loose cartridges.
Features:
Made in the UK
Fully adjustable shoulder strap
Adjustable buckle strap on the front
Strap fetures holder for four non-toxic cartridges
Capacity - approx 70 cartridges
Size in cm: 17h x 25w x 10d
GUN SLIP | Jack Pyke Roll Up Gun Bag
Simply roll up and attach this gun slip to your belt, it is soft lined with quick-release buckles, fully adjustable shoulder strap.
Features:
Roll up & attach to your belt
Soft lined
Quick-release buckles
Fully adjustable shoulder strap
Size in cm: 130L
Weight: 360g
CLEANING KIT | John MacNab Shotgun Cleaning Kit
A cleaning kit for your shotgun, an essential for all responsible gun owners.
Contains: Rods, mops, brushes and a jag.
GUN CARE | Cleaning Oils, Patches & Cloths
Silicone Gun Cloth
Lubricated gun & reel cloth by Tetra Gun Care.
Polish metal surfaces, protect your gun against rust & corrosion with a convenient dry lubrication. Great for stainless steel firearms, removes fingerprints & residue with a long-lasting formula.
Parker Hale Express Gun Oil
A light mineral oil for moving parts of guns, rifles or pistols. Contains a special rust inhibitor.
Bisley 150ML Aerosol Gun Oil
An excellent general purpose light mineral oil for all guns, accessories and equipment requiring a light viscocity oil. Lubricates and protects from rusting and corrosion. Penetrates to loosen rust.
Bisley Cleaning Patches x 25
One outer of 12 individual boxes of 25 patches. These cleaning patches can be used on any shotgun, simply attach them to your shotgun cleaning rod and push them through the barrel to remove any debris.
Bisley 150ML Aerosol Bore Cleaner
Removes gunpowder deposits from all guns and applies a rust inhibiting film to prevent corrosion. Specially formulated to remove all nitro and black powder deposits. Protects against further corrosion from gunpowder deposits and rusting. Disperses water and applies a protective oily film.
With all that is included, this Shotgun Accessory kit is a perfect choice for shotgun shooters but if you're still unsure why not check out our other specially tailored kits: www.cheshiregunroom.com/package-deals
For any further advice or help with ordering your kit, please don't hesitate to give our friendly sales team a ring on 0161 480 8222 or 01204 496 008.
Please note, offer is subject to availability, equivalent alternatives may be offered.
Additional Information
Additional Information
Reviews
Delivery & Returns
Delivery
From receiving your order we aim to deliver within 5-7 working days. In the instance that delivery will take longer, you will be notified.
International orders are usually delivered within 28 days.
If an item's packaging is damaged upon delivery, it must be signed for as "Damaged Packaging and Unchecked". If an item is not signed for as damaged and then ends up being so, CGR will assume that the damage was done after delivery.
If an incorrect item is delivered and it is found to be the fault of CGR, Cheshire Gun Room LTD will cover the cost of returning the item, whether that be having the customer send the item and refund the postage or having the item collected.
For international orders, the delivery cost may be calculated at the time of dispatch. Additional charge may be levied.

Returns and Cancellations
Customers that wish to cancel their order and return goods must notify Cheshire Gun Room LTD in writing (email, letter) within 7 working days of receiving them. Goods must then be returned to Cheshire Gun Room within 21 days.
If you are returning goods for any other reason than they are faulty, we would ask you comply with our returns policy in clause 4.1 above. Items must be returned to us within 7 days of delivery, for a refund the items must be received by us unopened and in a saleable condition.
Once goods have been received and providing they are in an AS SOLD state as determined by Cheshire Gun Room, a full refund will be made within 28 days.
Any customer who wishes to cancel an order before delivery must inform Cheshire Gun Room LTD at their earliest convenience. If an order has already been dispatched but not delivered the customer can refuse to accept delivery and the goods will be returned to us. However, If an item has been dispatched before cancellation the delivery charge will not be refunded.
Faulty goods; in the event of goods becoming faulty the customer should inform Cheshire Gun Room LTD immediately in writing (email, letter) and return the goods at once at their own cost for repair or replacement. See section 6 for more information.
In the unlikely event that goods are faulty on arrival, the customer must make Cheshire Gun Room LTD aware within a reasonable time and be able to prove that the goods were delivered in this state. Once this has been established we will then decide on the best course of action. This can include, but not limited to, posting the item back to us and refunding the cost or having the item collected by courier.
CD's, DVD's and Computer software are not eligible for a refund.
Special Order items or Made to Order items that require a deposit at time of ordering cannot be canceled or refunded at any time.
Warranties are non-transferable.
Exports
For over 20 years Cheshire Gun Room Ltd has been exporting and importing firearms, worldwide, to destinations as far ranging as Europe and the US to Nepal, Australia and beyond. We can also deal with the imports and exports of accessories such as scopes, moderators, ammunition and most of the items displayed online.
From start to finish we endeavour to make the whole experience as pain-free as possible.
We are not only able to export guns that we have sold but can also arrange exports for 3rd parties, such as clients who have sold their guns to people abroad or customers looking to move to a different country. We can also assist other gun shops who have enquiries abroad.
If you need a gun moving in or out of the UK, we can usually help whatever the circumstances and wherever the destination.
We can import and export Section 1, Section 2, Section 5, Air Rifles and Antiques & De-activated weapons.
Section 1: Bolt auction rifles, high capacity shotguns, long barrelled pistols
Section 2: Any shotguns under 3 shots
Section 5: Pistols, semi-automatic rifles, fully automatic rifles
Antiques: Antique & deactivated weapons, show pieces, war pieces
We hold Open Licenses for Europe, USA, Australia, Canada, New Zealand. This greatly speeds up the export process to these destinations eliminating the need, in most cases, to apply for an export permit on a case by case basis.
The map below shows a selection of some of the places we have exported to over the years and the type of gun exported.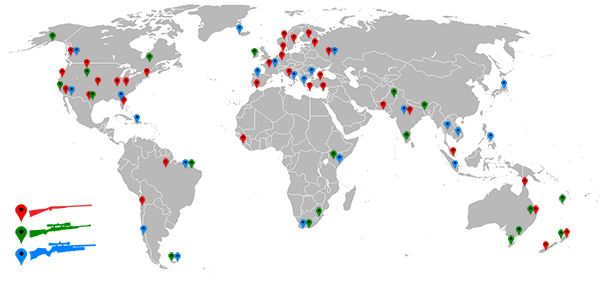 Export Procedure – Some Key Points
The main method of carriage we will use for transporting your goods will be Air Freight (sea freight and road freight are also available) and the service is known as Door To Port. This means the guns will leave our premises and arrive at your nearest customs served International Airport from where you will arrange collection. Shortly after shipping, you will receive an Airway Bill which will show flight numbers and arrival date. You can then use this to arrange collection of your firearms from the airport. Please note, it is your responsibility as the Importer to be sure of all import regulations and firearms law in your country.
In the UK, air rifles are classed as firearms. Because of this we are unable to use couriers such as Fed Ex, UPS etc to send the guns abroad, even if the gun requires no import paperwork in your country, which in a lot of cases they don't, they must still be exported in the same way as a shotgun or a rifle and flown to an airport for you to collect. The only exceptions to this are customers in Mainland Europe. We can ship air rifles to these customers at a vastly reduced cost but only if they are UK Legal Limit I.E Sub 12 ft/lb rated.
In almost all cases, any shotgun or rifle (and some air rifles) you intend to import will require an import license. This is your responsibility to obtain and we can offer little assistance with this although we will help as much as we can. Firearms licensing, police etc in your country should be able to offer better assistance. Some antique firearms require no import license. See below.
Some countries have provisions for antique firearms including USA and Canada. In these cases, providing the guns were manufactured before a certain date, you can forgo a lot of the standard import regulations. This is especially helpful for customers wishing to purchase English Shotguns and Hammer Guns. For example, if you are a US customer you can import a gun produced before 1898 without any import license, import broker or FFL dealer.
Whatever the situation or however unsure you might be the best thing to do is get in contact straight away. We are always happy to help and will endeavor to offer the best, most cost effective and quickest solution to your needs. Our passion is guns and shooting, and we love to share that with our customers around the world!
You can contact us either by emailing exports@cheshiregunroom.com or by phone on +44 161 480 8222 Option 4 or direct on +44 161 475 0132. We look forward to hearing from you soon! We aim to answer all enquiries within 24 hours on working days.
Please note we have staff available to speak/write in the following languages: English Greek, Arabic, Hindi, Punjabi, Urdu, French and Cantonese.
CUSTOMER TESTIMONIALS

Product Questions
No questions yet. Be the first to ask the question!