Product Description
Details
Tikka T3X TAC A1 Tactical Rifle
Never before has there been a rifle that meets the strictest quality requirements for unrivalled long range accuracy at this price range. With best-in-class value for every sport shooter, the new T3x TAC A1 is the ultimate tool for long range accuracy.
THE T3X RANGE IN DETAIL
The Tikka T3x product family combines Tikka's long-standing gunsmith expertise with the real experiences of Tikka hunters and sport shooters from all over the world.
Modular Stock
T3x has a new modular synthetic stock that has interchangeable pistol grips, making it possible to modify the angle of the grip. This allows for multiple shooting positions. Additional grips are sold separately. The T3x synthetic stock also has an additional attachment point which allows you to change the width of the stock's fore-end.
Improved Grip
A grip that never slips. The T3x synthetic stock has a new asymmetrical grip pattern and shape that has been specifically designed to give a solid grip in all conditions.
New Recoil Pad
T3x models come with a new recoil pad technology that reduces the impact of recoil on the shooter. The new robust pad allows you to fully concentrate on the accuracy of your shots.

Stock Noise Reduction
Be as silent as the forest. T3x synthetic stocks now have a foam insert within the interior of the rear stock – this lowers the stock-generated noise and can help you keep your target in sight. Not available for models with an adjustable cheek piece.
Redesigned Ejection Port
The new T3x receiver introduces a widened angular ejection port that makes it easier to feed one cartridge at a time.
Improved Rail Attachment
Always keep the target in your sight. The T3x models have extra screw placements on top of the receiver so that you can robustly attach a picatinny rail – even when using larger scopes.
Metallic Bolt Shroud
Robustness and quality go hand in hand. Metallic bolt shroud covers and shields the rear of the bolt body and the firing pin.

Steel Recoil Lug
This extra-strong lug has minimal deformation – even with larger calibers. Compared to aluminium, the steel lug doesn't have strong imprinting qualities that would cause deformation when larger calibers are used.
Additional Information
| | |
| --- | --- |
| Rifle Type | Bolt Action |
| Brand | Tikka |
| Condition | New |
Additional Information
Additional Information
| | |
| --- | --- |
| Rifle Type | Bolt Action |
| Brand | Tikka |
| Condition | New |
Reviews
Delivery & Returns
Delivery
From receiving your order we aim to deliver within 5-7 working days. In the instance that delivery will take longer, you will be notified.
International orders are usually delivered within 28 days.
If an item's packaging is damaged upon delivery, it must be signed for as "Damaged Packaging and Unchecked". If an item is not signed for as damaged and then ends up being so, CGR will assume that the damage was done after delivery.
If an incorrect item is delivered and it is found to be the fault of CGR, Cheshire Gun Room LTD will cover the cost of returning the item, whether that be having the customer send the item and refund the postage or having the item collected.
For international orders, the delivery cost may be calculated at the time of dispatch. Additional charge may be levied.

Returns and Cancellations
Customers that wish to cancel their order and return goods must notify Cheshire Gun Room LTD in writing (email, letter) within 7 working days of receiving them. Goods must then be returned to Cheshire Gun Room within 21 days.
If you are returning goods for any other reason than they are faulty, we would ask you comply with our returns policy in clause 4.1 above. Items must be returned to us within 7 days of delivery, for a refund the items must be received by us unopened and in a saleable condition.
Once goods have been received and providing they are in an AS SOLD state as determined by Cheshire Gun Room, a full refund will be made within 28 days.
Any customer who wishes to cancel an order before delivery must inform Cheshire Gun Room LTD at their earliest convenience. If an order has already been dispatched but not delivered the customer can refuse to accept delivery and the goods will be returned to us. However, If an item has been dispatched before cancellation the delivery charge will not be refunded.
Faulty goods; in the event of goods becoming faulty the customer should inform Cheshire Gun Room LTD immediately in writing (email, letter) and return the goods at once at their own cost for repair or replacement. See section 6 for more information.
In the unlikely event that goods are faulty on arrival, the customer must make Cheshire Gun Room LTD aware within a reasonable time and be able to prove that the goods were delivered in this state. Once this has been established we will then decide on the best course of action. This can include, but not limited to, posting the item back to us and refunding the cost or having the item collected by courier.
CD's, DVD's and Computer software are not eligible for a refund.
Special Order items or Made to Order items that require a deposit at time of ordering cannot be canceled or refunded at any time.
Warranties are non-transferable.
Exports
For over 20 years Cheshire Gun Room Ltd has been exporting and importing firearms, worldwide, to destinations as far ranging as Europe and the US to Nepal, Australia and beyond. We can also deal with the imports and exports of accessories such as scopes, moderators, ammunition and most of the items displayed online.
From start to finish we endeavour to make the whole experience as pain-free as possible.
We are not only able to export guns that we have sold but can also arrange exports for 3rd parties, such as clients who have sold their guns to people abroad or customers looking to move to a different country. We can also assist other gun shops who have enquiries abroad.
If you need a gun moving in or out of the UK, we can usually help whatever the circumstances and wherever the destination.
We can import and export Section 1, Section 2, Section 5, Air Rifles and Antiques & De-activated weapons.
Section 1: Bolt auction rifles, high capacity shotguns, long barrelled pistols
Section 2: Any shotguns under 3 shots
Section 5: Pistols, semi-automatic rifles, fully automatic rifles
Antiques: Antique & deactivated weapons, show pieces, war pieces
We hold Open Licenses for Europe, USA, Australia, Canada, New Zealand. This greatly speeds up the export process to these destinations eliminating the need, in most cases, to apply for an export permit on a case by case basis.
The map below shows a selection of some of the places we have exported to over the years and the type of gun exported.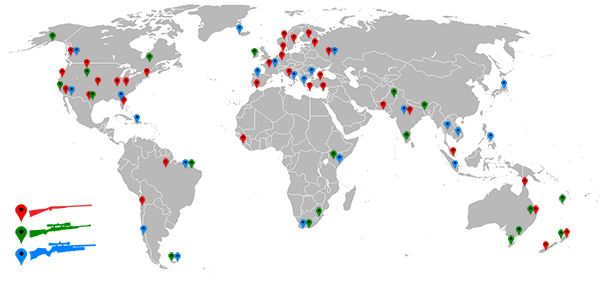 Export Procedure – Some Key Points
The main method of carriage we will use for transporting your goods will be Air Freight (sea freight and road freight are also available) and the service is known as Door To Port. This means the guns will leave our premises and arrive at your nearest customs served International Airport from where you will arrange collection. Shortly after shipping, you will receive an Airway Bill which will show flight numbers and arrival date. You can then use this to arrange collection of your firearms from the airport. Please note, it is your responsibility as the Importer to be sure of all import regulations and firearms law in your country.
In the UK, air rifles are classed as firearms. Because of this we are unable to use couriers such as Fed Ex, UPS etc to send the guns abroad, even if the gun requires no import paperwork in your country, which in a lot of cases they don't, they must still be exported in the same way as a shotgun or a rifle and flown to an airport for you to collect. The only exceptions to this are customers in Mainland Europe. We can ship air rifles to these customers at a vastly reduced cost but only if they are UK Legal Limit I.E Sub 12 ft/lb rated.
In almost all cases, any shotgun or rifle (and some air rifles) you intend to import will require an import license. This is your responsibility to obtain and we can offer little assistance with this although we will help as much as we can. Firearms licensing, police etc in your country should be able to offer better assistance. Some antique firearms require no import license. See below.
Some countries have provisions for antique firearms including USA and Canada. In these cases, providing the guns were manufactured before a certain date, you can forgo a lot of the standard import regulations. This is especially helpful for customers wishing to purchase English Shotguns and Hammer Guns. For example, if you are a US customer you can import a gun produced before 1898 without any import license, import broker or FFL dealer.
Whatever the situation or however unsure you might be the best thing to do is get in contact straight away. We are always happy to help and will endeavor to offer the best, most cost effective and quickest solution to your needs. Our passion is guns and shooting, and we love to share that with our customers around the world!
You can contact us either by emailing exports@cheshiregunroom.com or by phone on +44 161 480 8222 Option 4 or direct on +44 161 475 0132. We look forward to hearing from you soon! We aim to answer all enquiries within 24 hours on working days.
Please note we have staff available to speak/write in the following languages: English Greek, Arabic, Hindi, Punjabi, Urdu, French and Cantonese.
CUSTOMER TESTIMONIALS